Medanta the Medi City – Flying Doctors India an Air Ambulance Services
At Medanta we believe that all patients should have access to world-class care no matter where they live in India or Asia. To achieve this goal, we at Flying Doctors India, a dedicated team of specially trained doctors, paramedic's pilots and support staff, to help evacuate patients. Flying Doctors India Air Ambulance is a top and special facility provider for air and Cargo services. Our emergency Air Medical Service are offering services for transferring patients from one place to another. We are Delhi-based Air Medical Transport service provider, our medical transport services can be obtained all across the country. Apart from providing Air Medical Charter services we also provide other health care conveniences as Medical Cargo Services. We are one of the few medical institutions in India to that provide tertiary medical care on board an aircraft even at an altitude of 45,000 feet. Medanta's Flying Doctors work to eliminate geographic barriers to access Medanta's super specialised medical expertise and are available round the clock.

Dr. Naresh Trehan
Chairman & Managing Director, Medanta
Heart Institute
Emergencies happen without cautioning and they don't continuously happen at places where health emergency services are available. In such circumstances medical air clearing facility acts like a lifeguard to save lives by creation highly specialized emergency health care nearby despite earthly challenges.
World No 1 Facility We offer during Patients Transfer in Air Ambulance
Medanta provides "Flying Doctors" service in the surveillance of its best Doctors who are specially trained for such situations and this air medical transport facility is fully equipped with state-of-the-art advanced cardiac support systems. We provide a dedicated trained staff along with the highly experienced Doctor and everyone in the crew is specially trained in Trauma and medical evacuations and ready to fly our air medical jet on a very short notice. We are prominent for the services & for the values that we are stick with to provide the best & fastest care for the patient.
We have our Air Ambulance Facilities available all the time and organized in such a way to take off any given moment in a short notice when required. We established our base for emergency air ambulance service in Delhi NCR & we offer our services to all the required zones of the country working 24×7 . As we understand the responsibilities of being in Medical services. Now Flying Doctors India Service has been listed in India's top and progressive service workers of air ambulance Delhi only because of our excellent facilities and hi-tech medical equipment's that successfully manage to carry a critical patient without a hassle & discomfort.
How we transfer patients from Bed to Bed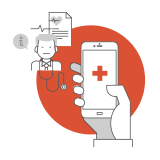 One call to get moving
We are just one call away when needed as our Flying Doctor service number picked by 24*7 .our Doctors on call assess the patient's condition after evaluating the clinical report and knowing the health case history of the patient,..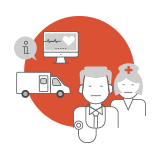 Preparing for evacuation
Based on the assessment done by Doctor, an appropriate medical team equipped with the required equipments along with the efficient medical staff is dispatched to airlift the patient from any location (no matter how far or outskirt the location is) in the country.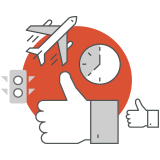 Take off
As far as the service rapidness is concerned , receiving a call for an emergency to take off our air ambulance jets we have the lowest activation time approxly (80 minutes). We also get priority on runway for takeoff & landing & privileged for green corridor during an emergency.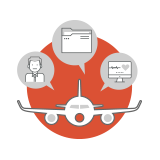 On-board
We understand the chances of an emergency occurring situation in the flight. During the flights we are well equipped and capable of providing advanced critical care support & also conduct the emergency procedures if required. We are adhered to provide the safer & faster services to the patient.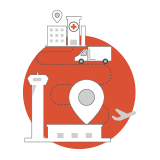 Airport to hospital
Medanta runs the medical centre at Delhi Airport also and this is also a salient feature of the service that a patient would directly be shifted to the Medanta's Medical premises from the exit door of the Aircraft.
Speak to our evacuation team +91 9810736503
What Aircraft do we use for Air Medical Transportation?
Medanta's most efficient service "Flying Doctors India-An Air Medical Service" use the world class aircraft that are specifically designed for medical use. Together with a team of highly qualified technicians and experienced pilots the team enables quick and timely medical evacuation in air ambulance manner that is safer, faster & comfortable for the patients. If you are in requirement of a business that offers medical flights to or from anywhere in the globe, look no further than Emergency Air Ambulance Wide-reaching. We are a important, full-service mobile exhaustive care wage-earner that delivers world-class carriage services to those in requirement of medical consideration while traveling.
Success stories at Medanta
Mr. R. N. Dwivedi's, a occupant of Kanpur, well-being deteriorated into Spread Intra-vascular Coagulation consequential in multi-organ disappointment and a conclusion was reserved to use air ambulance to be transported to Medanta - the Medicity inside two hours to stabilise his condition.
The doctors in the ambulance stayed in persistent contact with the on-ground team of Medanta, to prepare for the treatment to begin proximately.
Mr. R.N. Dwivedi
Kanpur
For patients who requirement to get a superlative infirmary and advanced flying ambulance is accessible circular the clock at Medanta-The Medicity. The area is to offer serious care even in journey in the least reply time. Here is a attention of Flying Doctors India - innovators of flying ambulance in India.
For all queries and bookings
Dr. Sunil Dubey
info@flyingdoctorsindia.in
Emergency and Trauma care at Medanta-The Medicity
24*7 Doctor Helpline or Email info@flyingdoctorsindia.in
Get Benefit of Charter Air Ambulance service in India at Anytime
When you rely on Flying Doctors India for Air Ambulance with medical transport facilities or other concentrated care carriage, we can serve nearly any medical emergency for you or for your important one and struggle to make your expedition as easy as conceivable.
We do this by:
Offering multiple airplane for thoroughgoing cost proficiency and to meet the explicit supplies of our patients. Our possibilities include both harried and non-pressurized medical flights.
Dealing all logistics of the journey, creation it as level and stress-free as conceivable.
Working obstinately to realize any insurance attention compensation possible.
Employing widely trained medical supervise with a least of five years of ICU/CCU knowledge, as well as experienced pilots with at least 15 years of knowledge in the business.
Our Major City
Air Ambulance in Bangalore
Air Ambulance in Ahmadabad
Air Ambulance in Allahabad
Air Ambulance in Bhopal
Air Ambulance in Bhubaneswar
Air Ambulance in Bikaner
Air Ambulance in Bokaro
Air Ambulance in Chandigarh
Air Ambulance in Chennai
Air Ambulance in Coimbatore
Air Ambulance in Amritsar
Air Ambulance in Aurangabad
Air Ambulance in Bagdogra
Air Ambulance in Bhagalpur
Air Ambulance in Delhi
Air Ambulance in Hyderabad
Air Ambulance in Imphal
Air Ambulance in India
Air Ambulance in Indore
Air Ambulance in Jabalpur
Air Ambulance in Jaipur
Air Ambulance in Jammu
Air Ambulance in Jamshedpur
Air Ambulance in Dibrugarh
Air Ambulance in Dimapur
Air Ambulance in Gaya
Air Ambulance in Goa
Air Ambulance in Gorakhpur
Air Ambulance in Guwahati
Air Ambulance in Gwalior
Air Ambulance in Lucknow
Air Ambulance in Mumbai
Air Ambulance in Muzaffarpur
Air Ambulance in Nagpur
Air Ambulance in Patna
Air Ambulance in Kolkata
Air Ambulance in kanpur
Air Ambulance in Pune
Air Ambulance in Purnia
Air Ambulance in Raipur
Air Ambulance in Raigarh
Air Ambulance in Rajkot
Air Ambulance in Kharagpur
Air Ambulance in Khatmandu
Air Ambulance in Kochi
Air Ambulance in Srinagar
Air Ambulance in Surat
Air Ambulance in Udaipur
Air Ambulance in Varanasi
Air Ambulance in Vellore
Air Ambulance in Ranchi
Air Ambulance in Rewa
Air Ambulance in Shilong
Air Ambulance in Shimla
Air Ambulance in Silchar
Air Ambulance in Siliguri
Air Ambulance in Vijayawada
Air Ambulance in Visakhapatnam
Air Ambulance in Darbhanga
Air Ambulance in Jodhpur